words of wellness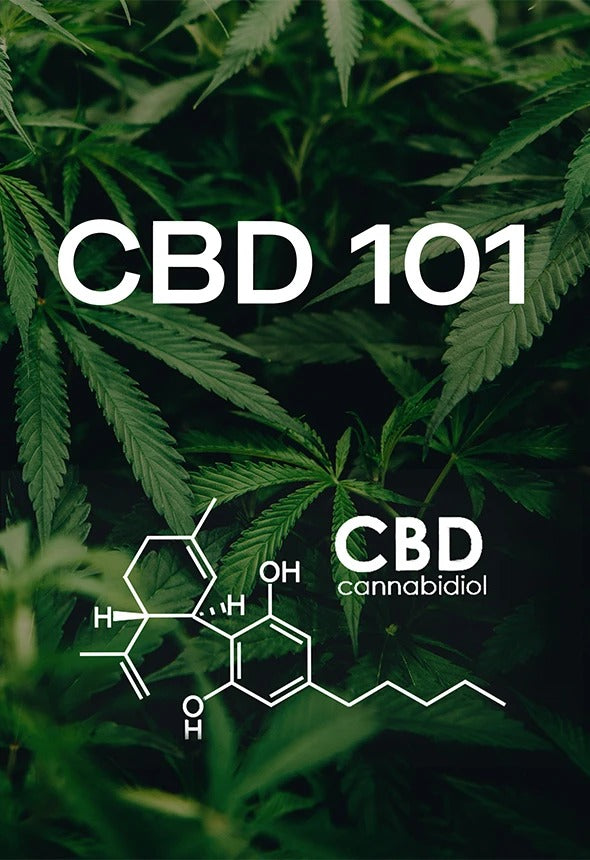 CBD 101: The Basics
So clearly, you have an interest in CBD, that's why you're here! But we know what you're thinking, "Isn't it basically weed?" "What's the difference between CBD and THC?" "What even is CBD?" We know, it can be pretty confusing. This blog post is all about the basics of CBD to familiarize yourself with everything you need to know about CBD, THC, and everything in between.
What is CBD?
Cannabidiol, aka CBD, is a non-intoxicating chemical compound produced by the Cannabis sativa plant. It is commonly found within Cannabis oil, which is contained within resin glands found on the surface of Cannabis flowers. The Cannabis plant produces more than 113 unique compounds known as cannabinoids, of which CBD is one. The term cannabinoid describes a unique class of organic chemicals, all of which feature similarities to the active components of Cannabis.
CBD vs THC
CBD and THC are both natural chemical components found in the cannabis plant family. CBD can be extracted from hemp or cannabis, both of which belong to the Cannabis Sativa family. It's legal on the federal level, hence why you see so many CBD products popping up in your local grocery and wellness stores. THC is the main psychoactive compound in cannabis, which is the reason people get high while smoking or ingesting it. Unlike CBD, THC is only legal in certain states, with more and more states pushing to decriminalize. Being that the federal legal limit for THC that can be found in CBD products is .3%, when you consume full spectrum CBD (which our products are sourced from), you technically are consuming small amounts of THC. But the percentage is so small that you won't get high from it. Despite their differences, they both have incredible healing properties, a number of which include: anxiety, depression, sleep aid, pain-relief, anti-inflammatory relief, and appetite inducer. The wonderful benefit about CBD is that it's great for those who want to experience the healing properties of THC without the high that comes from THC.
Hemp vs. Marijuana
You've probably seen lotions in your local pharmacy with hemp labeled on the front. "Isn't it just marijuana?" Well, yes and no. Hemp is a specific type of cannabis known as Cannabis Sativa L. They're technically the same plant, they just have different classifications.The major difference? It really just boils down to legality. Although they both come from the same plant, hemp is legal on a federal level while marijuana is only legal in certain states due to the effects that both plants produce. Hemp is a variety of cannabis that contains 0.3% THC and is considered to be non-intoxicating. Marijuana contains more than 0.3% and induces psychoactive effects, which essentially means that a cannabis Sativa L. plant with a greater percentage of THC than 0.3% would be classified as marijuana, not hemp.
How to use CBD
CBD is commonly used in many forms including tinctures, edibles, softgels, flower, vapes, and topicals. Here's a breakdown of some of the CBD forms we offer and recommended use:
CBD flower: pre roll 
For users who are accustomed to a traditional smoking experience, Exhale the BS™ Anytime CBD pre roll is here for your convenience. Rolled in organic hemp paper, our pre rolls are made from locally grown, hand-harvested organic CBD flower, providing a fruity creamy aroma for an even smoother smoking experience. For those curious about smoking CBD, studies show that inhalation delivers rapid onset of CBD with bioavailability as high as 56%. No pressure, though! Whenever (and if ever) you're ready, breathe in deep and blow out the bad stuff to experience a mellow calming effect anytime you need it most. For first time users, smoke approximately ¼ of the pre roll, wait 15 seconds and assess if more is needed. 
CBD Softgels
Night-time softgels
Put your mind at ease and sink into slumber by taking our Sleep On It™ Night-time Softgels . Made with a proprietary blend of artisanal hemp and organic adaptogens, this night time CBD terpene mix joins with ashwagandha, a natural stress reliever, to amplify a sense of tranquility as you turn out the lights. Where does the sleep magic come from? You guessed it, hemp! Cannabidoil, which is contained in the plant, impacts the body cortisol levels (the stress causing chemical) to produce calming, relaxing effects. Sized perfectly for easy swallowing and coated with a refreshing minty taste, this power packed stress reliever kicks insomnia to the curb faster than you can count sheep. Recommended dose is (1) capsule (50mg), 30-60 minutes before bedtime. Increase as desired or as recommended by your doctor. 
Daytime softgels
Sometimes it's difficult to find your flow when the hustle seems too much to handle. Luckily, our Clear the Noise™ Daytime Softgels are here to drown out that static and keep you focused on your grind. Formulated with stress relief properties naturally found in CBD, the heavy hitter ingredients in our day-time formula are schisandra and mucuna pruriens. Schisandra grows throughout northern and northeast China and the adjacent regions of Russia and Korea, containing transformative benefits of stress relief properties and by stimulating proper immune function. Mucuna Pruriens are native to southern China and eastern India. The plants have spread throughout much of Asia and are often cultivated around the world, especially in Australia and the southern United States. When schisandra is mixed with the L-dopa in Mucuna Pruriens, they tag team to bring out an energy-enhancing but calming daytime effect. Recommended dose is (1) capsule (50mg) per day. Increase as desired or as recommended by your doctor. 
CBD Oil Spray 
For those new to the wonders of CBD, this spray is a perfect entry-point. Our Press the Reset™ Oral Spray combines the convenience of mouth spray with all the benefits of cannabidiol. Ingesting pure CBD has never been easier with this pocket sized oral spray, leaving an energizing peppermint taste. Easier to use than tinctures and small enough to carry in pockets and bags, our oral spray is here to help you stay grounded even when you're on the go. For faster delivery and maximized bioavailability, shake well before use, spray under your tongue, hold for 30-60 seconds then swallow. We advise 3 sprays (24mg) per day. Increase as desired or recommended by your doctor.
What should I consider when purchasing CBD?
Dosage & Potency
The amount of CBD you take every day will affect how quickly you will begin feeling its effects. In general, the more that you're taking, the quicker you'll feel it. When you're choosing a CBD product, you should consider the type of results you're trying to achieve and adjust your dosage accordingly. This may also include testing different consumption. It can also depend on your body mass,  your goals and expectations, along with other variables like your age, body weight, metabolism and if you're taking any prescription medications. 
Everyone is different, and this is something you need to assess for yourself.  Consult with your doctor to determine if CBD is right for you and to determine the best dose.
Quality
Not all CBD products are created equally.
You can rest assured in the quality of our CBD products. We source from a farm that's been certified organic by the USDA. The USDA has strict guidelines for organic farming and processing. This means that USDA certified organic products will be responsibly sourced and of higher quality.
USDA Organic certification means that no synthetic fertilizers, pesticides or herbicides have been used in the cultivation of hemp. It also ensures that farmers are using tillage and cultivation practices that maintain or improve the condition of the soil and minimize soil erosion.
Individual Biology
No two people respond exactly the same to CBD, even if they have the same consumption, the same delivery method, and the same body composition. One person could feel their CBD dose in 10 minutes, yet someone else could take the same dose and feel it in an hour. 
It can  depend on your body mass,  your goals and expectations, along with other variables like your age, body weight, metabolism, and Endocannabinoid Balance.
Consistency 
For some people, the positive effects come immediately. A lot of people will notice that they're experiencing less stress, less tension, and better sleep after just one dose of CBD -- but this is just from anecdotal reports. For others, it might take a few weeks to notice the powerful effects of CBD. So if you don't experience relief right away, be patient.
The key to getting the most benefits out of your CBD is consistency! A consistent, daily dose will eventually restore balance to your endocannabinoid system.
Be mindful of how your body responds to your daily CBD dosage. To discover its full effects, we recommend trying it for a full 30 days.
Conclusion
There you have it- a brief overview on CBD and what you should consider and know before trying it. Have more questions? Visit  our FAQ page
Ready to order CBD? Check out our
products.